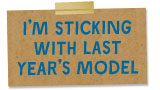 I just stumbled across a great blog. Last Year's Model – saving the planet through sheer laziness. It's here: lastyearsmodel.org
In the words of the blog: Get great gadgets. And keep them.  Oh, and then tell everyone – on the blog, on Facebook, on your own blog or on Twitter (#lastyears).
It's a peculiarity of the world we live in now that things like this simply drop into our paths. In my case, I was finding out a bit about what people think about the new beta version of Typepad, veered from there into lists of blog designs that people liked, and this was one of them. I went to look at it for the design and stayed for the content. Mind you, this isn't a Typepad blog by accident – it was created by Anil Dash, Vice President at Six Apart.